I torsdags mødte jeg et par timer senere fordi jeg lige ville slå et smut forbi Roskilde Bypark, hvor Kaya Brüel holdt børnekoncert sammen med mit band, som blandt andet omfatter Jacob Christoffersen og Ole Kibsgaard, som jeg jo også kender fra Shu-bi-dua.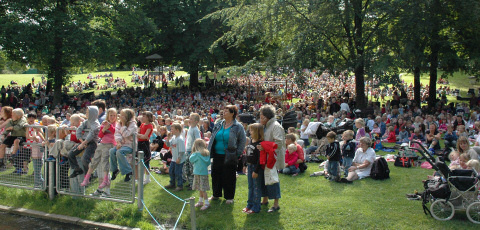 Vejret var fantastisk og flere hundrede mennesker havde taget tæpper med og sad på den stejle græsplæne, der hældte ned mod scenen, hvor de 6 stod og fyrede den af og så ud til at have det sjovt.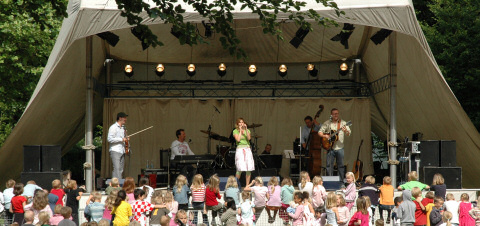 Koncerten bestod af de fleste af de sange, som findes på Kayas nyeste plade "Jeg fandt en sang på vejen", som består af en masse sange som hendes oldefar Axel komponerede til Halfdan Rasmussens tekster. Sangene er smukke som Kaya selv, og hendes stemme er fantastisk til børnesangene.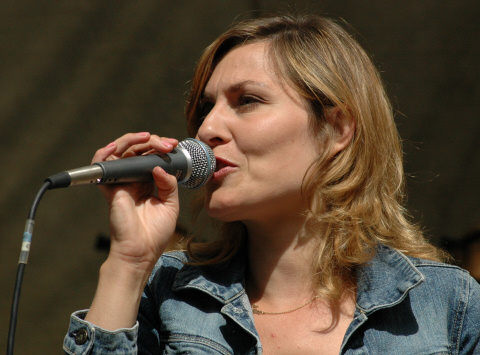 Efter koncerten hilste jeg som mange andre lige på Kaya, Jacob og Ole og købte pladen og fik et par skrivere på. Jeg fandt også en sammenkrøllet og henkastet sætliste, som jeg var så fræk at tage med hjem.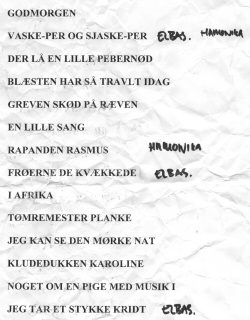 Det var en fantastisk formiddag, og jeg kan kun opfordre alle til at tage en tur i Kongens Have på lørdag den 8. juli for at se et tilsvarende arrangement, og desuden kan Kaya og Ole opleves alene sammen på Ingolfs Kaffebar på Amager dagen efter.