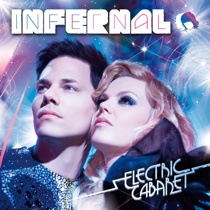 Tilbage i 2008 udgav gruppen Infernal albummet Infernal Affairs, og i den forbindelse hentede jeg albummet via TDC Play og lyttede det igennem. Det var ganske udmærkede sange, men da jeg hørte nummeret Because Uhh, var min første tanke, at det var nakket fra Tommy Seebachs gamle nummer Bobble Sex (også set stavet Bubble Sex), som har mange år på bagen. Det tunge beat, der underbygger sangen og akkorderne er mere eller mindre identiske.
I forbindelse med promoveringen af albummet blev der også lagt nogle videoer på Youtube, og til videoen for Because Uhh skrev jeg en kommentar om mine betragtninger. Det kom der vist aldrig noget respons på før i søndags, hvor jeg modtog en mail fra en mand, som udgav sig for at være én af ophavsmændende til nummeret. Jeg har efterfølgende tjekket op påstanden, og det kunne sagtens være rigtigt. Manden skrev følgende på engelsk, fordi jeg nok havde skrevet min kommentar til videoen på engelsk:
I co-wrote because uh with infernal […]. just wanted to say that you have sharp ears to hear that because uh is close to bobble sex. actually because uh was written to a track where we had sampled boble sex. but we didnt want to use the sample so we made a new production. I dont think is close to boble sex at all so its very cool that you could hear that.
Denne påstand kunne sagtens være sand, fordi flere af ophavsmændende til Because Uhh har rødder i det Seebach'ske univers (se evt. linket til sangen ovenfor).
Søreme så, mine øren havde ikke bedraget mig!