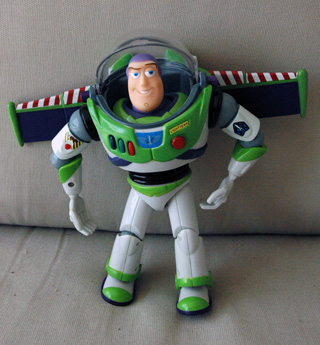 Som man nok ved har jeg fået ny arbejdsplads, da firmaet er flyttet til Kalvebod Brygge. Det skal fejres, så jeg købte i går en ny Buzz Lightyear-dukke, som skal stå på mit skrivebord til inspiration. Hvis man ikke ved det, er det af tre grunde:
Buzz's catch-phrase er "To infinity and beyond", hvilket må være den ultimative mål for ens arbejde. (At Buzz derudover er en klaphat, der spiller smart uden noget at have det i, er en anden, ubetydelig sag)
Buzz Lightyear er en figur, der kom til live i den computer-animerede film "Toy Story".
Buzz's stemme er indtalt af Tim Allen, en af mine personlige favoritter.
Min gamle dukke var var en lille brugt én fra et loppemarked, og knappen til lyde var gået i stykker. Så denne her er både større og sejere! Desværre er lydene ikke indtalt af Tim Allen men i stedet af en eller anden amatør, hvilket gør lydene ubrugelige. Men hvad, dukken skal også bare stå og se pæn ud.
Det er egentlig utroligt at man stadig kan få en dukke i en legetøjsforretning, når det er 7 år siden siden at "Toy Story 2" var i biografen.