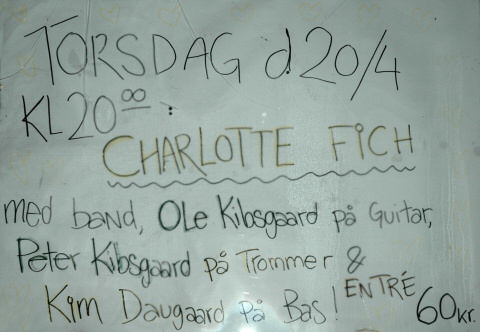 I torsdags tog jeg en tur til Café Øens Perle på Kastrupvej, Amager, hvor jeg havde hørt, at der ville blive spillet god musik med kendte mennesker og så til en fornuftig pris.
Cafeen er et ikke særlig stor, så det er meget intimt, når der spilles musik for gæsterne, og denne aften var det Charlotte Fich, der sang, mens Ole Kibsgaard, Peter Kibsgaard, og Kim Kibsgaard (normalt går sidstnævnte under navnet Kim Daugaard) spillede på livet løs. Kendere vil opdage, at Ole og Kim begge er med i Shu-bi-dua, og da jeg render lidt i røven på Ole er det derfor, jeg havde opdaget dette arrangement. At det foregik på Cafeen er ikke et tilfælde, den ejes nemlig af Ole og hans kone.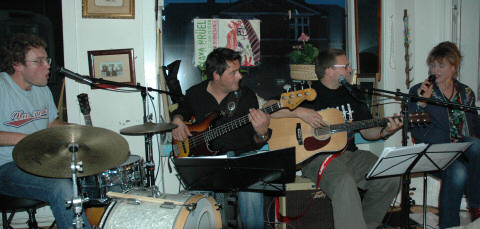 Jeg var i god tid og fik derfor én af de bedste pladser, og jeg fik selskab af US (en gurli), som også tog de billeder, jeg har fået lov at bruge her.
Det blev til 10-12 sange i to sæt, og det var ganske hyggeligt og efter min mening meget vellykket, selvom det fra udøvernes side blev understreget, at det kun var anden gang, man optrådte i denne opstilling, og man havde ikke lige øvet så meget.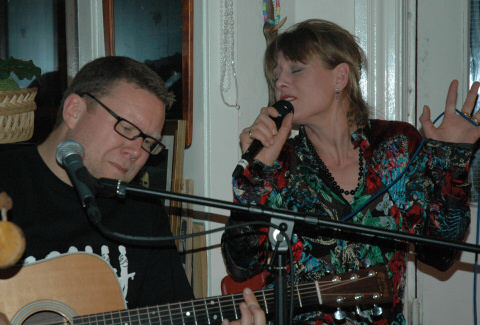 Jeg kendte personligt kun to af de numre, der blev spillet, nemlig
(It's Got to be) Perfect
A Rockin' Good Way
Sidstnævnte er i hvert fald indspillet af Shakin' Stevens sammen med Bonnie Tyler i 80'erne, men er muligvis endnu ældre.