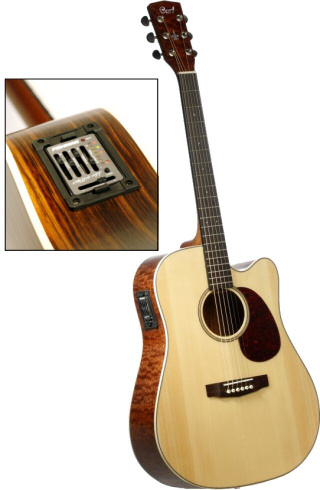 Jeg har de sidste uger gået og kigget mig om efter en ny westernguitar, da min gamle Aldi-Squier (med autografer) efterhånden er slidt op. Den nye guitar skulle have pick-up og måtte også meget gerne have "cut-away".
I dag var jeg så forbi Aage for at kigge på den guitar, man har annonceret med i avisen, og den skulle kunne købes på tilbud søndag. Nu var det sådan, at de også havde guitaren stående på deres hjemmeside til samme pris, så jeg regnede med, at jeg allerede i dag kunne prøve at spille på den, og det kunne jeg.
Jeg sad og fyrede den af i et kvarters tid på deres billige anlæg og var helt overvældet over lyden, så jeg tog én med hjem og jeg har så efterfølgende spillet lidt på den.
I en begrænset periode kunne du høre et eksempel på guitarens lyd nedenfor, men pga. ophavsrettigheder og pladsmangel blev filen fjernet efter kort tid! Nummeret var vers og omkvæd fra Steffen Brandts "Kærligheden overvinder alt".
Filen kan efterspørges hos Nielsen personligt.