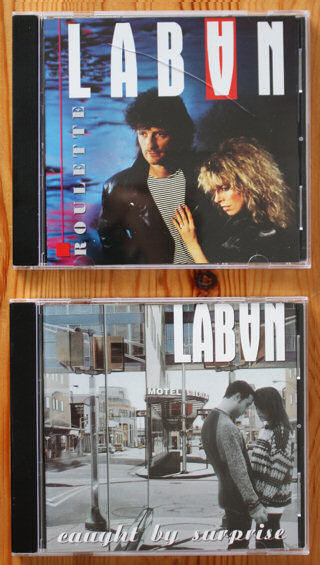 Jeg har i dag modtaget de to engelsksprogede Laban-plader "Caught by Surprise" og "Roulette" med posten fra USA. Pladerne er blevet genoptrykt af cdrecollect.com, hvor jeg har bestilt dem for $10 pr. styk plus porto via ShopUSA, som stod for fortoldning og forsendelse til Danmark.
Jeg har derfor nu endelig haft mulighed for at opspore, hvilke af de danske numre, der er (gen)indspillet på disse to plader, og det fremgår nedenfor, hvis nogen skulle mangle den pågældende viden.
Caught by Surprise:
1. Love in Siberia (Kold som is fra Laban 4)
2. Donna Donna (John Hattings Grand Prix-klassiker fra 1984)
3. Now and Forever (Nu eller aldrig fra Laban 3)
4. Let Me Know (Det du tænker på fra Laban 3)
5. It's a Fantasy (Det' en hem'lighed fra Lecias Grand Prix-klassiker fra 1984)
6. Caught by Surprise (Kun et sekund fra Laban 4)
7. Ca-me-camera (Came-camera fra Laban 3)
8. Gimme Your Name, Gimme Your Number (Dit navn, dit nummer fra Laban 1)
9. Ch-ch-cherrie (Ch-ch-cherrie fra Laban 2)
10. Radio (Luk op for radio'n fra Laban 3)
Roulette:
1. Russian Roulette (Vild jalousi fra Laban 5)
2. Down on Your Knees (Jeg ska' nok få dig ned fra Laban 5)
3. Don't Stop (Helt ved siden a' mig selv fra Laban 4)
4. Save Me (Jeg ka' vente fra Laban 5)
5. Destiny (Det jeg aldrig si'r fra Laban 5)
6. Cool Down (Lang-somt fra Laban 5)
7. Priser of the Night (Fange i natten fra Laban 5)
8. Asian Heart (Asian Heart fra Laban 5)
9. Play Boy / Play Girl (Efter midnat fra Laban 4)
10. Limit to Love (Besat fra Laban 4)
Der findes udover dette også et engelsksproget nummer med titlen "I Close My Eyes and Count to Ten", som formodentlig er en single. Den lader ikke til at være indspillet på dansk og findes på diverse opsamlingsalbum.