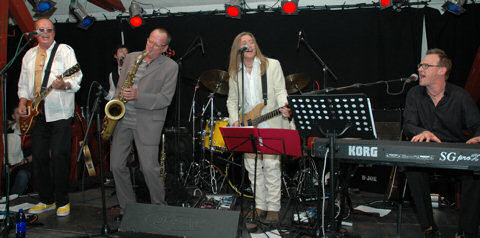 (Foto: Ulrik S.)
Fredag aften blev en månedlang spænding udløst, den gamle 80'er-konstellation Michael Hardinger og Jørgen Thorup var tilbage, og denne koncert på Krudttønden på Østerbro i København var den officielle premiere på et antal koncerter, der skal spilles det næste halve år tid eller længere.
Hardinger/Thorup består udover de to herrer også af B-Joe på guitar og sang, Kasper Daugaard på bas og Klaus Menzer på trommer, og det musikalske indhold er en blanding af Hardinger & Thorups fælles materiale, deres solo-materiale, Shu-bi-dua (som både Thorup og Hardinger har været med i) og lidt gedigent, internationalt rock'n'roll. Det er en sammensætning, der ikke kan slå fejl, og det gjorde det heller ikke.
Jeg har tre gange før oplevet Jørgen Thorup live med hans eget materiale, men som medlem af Gurliklubben (en Shu-bi-dua-fanklub) var det fantastisk at opleve Michael Hardinger live for første gang og især at høre noget af hans solomateriale, som jeg delvist genopdagede for få år tilbage. Samtidig var det en unik oplevelse, at de valgte at spille det gamle Shu-bi-dua-nummer Generatorbouillon til ære for Gurliklubben (det er "vores" sang). En helt fantastisk koncert, og tak til d'herrer for det!
Næste koncert er et arrangement i Roskilde Kongrescenter den 15. maj, og jeg står helt sikkert på første række. Sætlisten vil utvivlsomt være en anelse anderledes, da der var nogle numre, som ikke nåede at komme med første gang.
Sætlisten:
– Generatorbouillon/Min baby bor i højhus (Shu-bi-dua)
– Drenge og piger (Hardinger/Thorup)
– Uh, baby (Hardinger/Thorup)
– You really got me (The Kinks)
– The joker (Steve Miller Band)
– Gør som du vil (Thorup)
– Alene på Mars (Hardinger)
– En sang til dig (Hardinger/Thorup)
– Snapshot af Danmark (Hardinger/Thorup)
– Walkmand '09 (org. Hardinger, ny udgave af Hardinger/Throup)
– Sorry seems to be the hardest word (Elton John)
– Nam nam (Shu-bi-dua)
– I saw her standing there (Beatles)
– Rockin' all over the world (Status Quo)
– Sommergryder (Shu-bi-dua)
– Saturday night's alright for fightin' (Elton John)
– Står på en alpetop (Shu-bi-dua)
Ta' den!